It's Friday!! That means it's time for a fun filled weekend and some Friday favorites.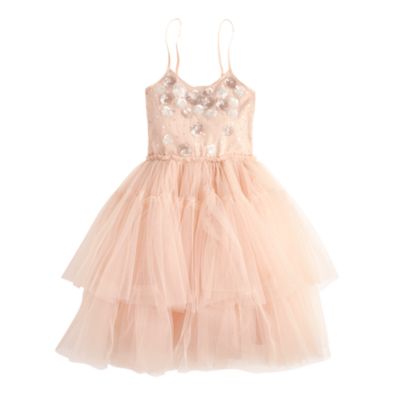 One - Last week we booked our plane tickets and hotel in the mountains for when we go to Denver in August. That put my into full on planning mode. The first item of business? Brooke's dress. I've been looking for a reason to buy Brooke a Tutu Du Monde dress, and flower girl fits the bill perfectly. As soon as my brother okayed
the dress
, I was on J Crew's website snatching it up. It's a good thing too, because it sold out right after we order ours. I can't wait until it arrives! I will have to hide it until the wedding, because once she sees it, I'm sure she will refuse to wear anything else.
Two - I've also bee scouring the Internet for a bridesmaid dress for me. My requirements are neutral pallet and no embroidery or pattern. Simple enough, right? I'm waiting until after our IVF cycle to order a dress, for obvious reasons, but I've already been a pinning fool. I came across this
amazing dress
and instantly fell in love. Sequins speaks to me. While it doesn't fit the bill for the wedding, I still pinned it and am hoping for a nice markdown so I can purchase it.
Three - Who else is loving these warmer temps? Everyone? Yeah, I thought so. We've been spending as much time outside as possible, and we're trying to bring Spring indoors too. As much as I want to open the windows, 50 degrees is still a little too chilly for opening the windows. Instead we broke out some of our spring candles.
Lilac
is my absolute favorite! Bath and Body Works has their 3 wick candles on sale this week too, so no is the perfect time to scoop up spring and summer scents. When we were at the store on Wednesday we saw some purple tulips, and we had to get them. I mean, how could we not? Spring in a vase.
Four - I love Angie's popcorn as a sweet treat, and the kids do too. When the Christmas holidrizzle flavors are out? Forget about it. We came across the lemon drop variety at Target the other day, and I may have eaten the entire bag during nap time. Oops. It tastes like summer. So good! We'll be grabbing a couple more bags while we're at Target today.
Five - Who else is excited about Cinderella? I have been looking forward to seeing it since the first preview. We are taking the kids on Sunday. It will be their first theatre movie. We'll be packing lots of snacks, and buying the jumbo popcorn and Liter-o-Cola. Wish us luck!
Linking up with